Regular price
525,00 zl
Sale price
485,00 zl
Unit price
per
Sale
Coming soon
30-Day Best Price*: 485,00 zl
Ticket Price:
🇵🇱 485 PLN ≈ 🇺🇸 120 USD ≈ 🇻🇳 2 915 700 VND
(at the current global rate PLN - USD - VND)
*PLN is the store default currency
What's included?

By purchasing Entry you receive :
a) Entry to the event mentioned in the Terms and Conditions
b) DNF Signature Sample Pack & I.GOT.U Signature Sample Pack
Share
View full details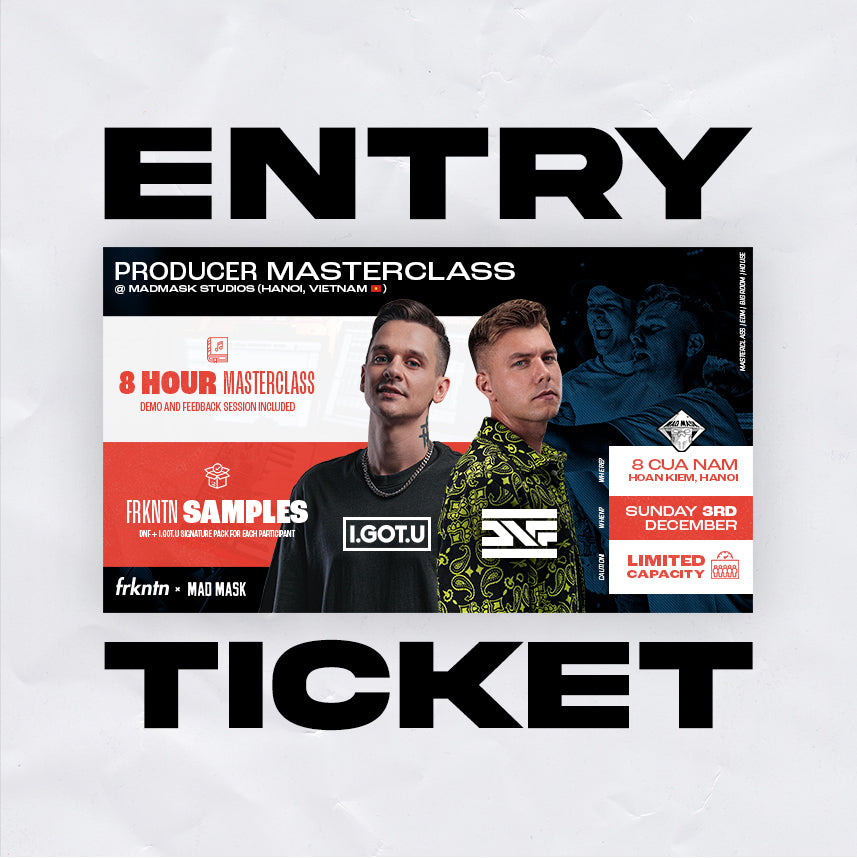 Payment Options
Quick Payment 💸

Easily pay by Card/PayPal or other popular methods and get your copies of FRKNTN Sample Packs straight away!

Bank Transfer 🏦

Secure your place by choosing this option. Just select "Bank Transfer" and get all the necessary information from us by email.


Cash 💰

If you prefer to pay by cash, no worries!
You can do that while you enter Mad Mask Studio. You will get your copy of Sample Packs after the Masterclass.
Description
Tiếng Việt 🇻🇳

🚨 Hãy trở thành một phần của FRKNTN Music Producer Masterclass kết hợp với Mad Mask Studio lần đầu tiên có mặt tại Việt Nam.

Bộ đôi DJ/Producer hot nhất tại Ba Lan 🇵🇱 DNF & I.GOT.U . Chủ sở hữu của hãng thu âm FRKNTN sẽ chia sẻ những hiểu biết và kỹ thuật của họ trong lĩnh vực sản xuất âm nhạc điện tử.

🏠 Sự kiện sẽ được tổ chức tại Mad Mask Studio hiện đại nhất nằm giữa lòng trung tâm thành phố Hà Nội . Sự kiện độc quyền này hứa hẹn sẽ là một sự kiện làm thay đổi cuộc chơi cho những nhà sản xuất âm nhạc điện tử muốn thăng tiến hơn trong ngành âm nhạc.
____________________________

📆 Ngày diễn ra sự kiện :
Thứ 6 Ngày 03 Tháng 12 Năm 2023

⏰ Thời gian :
Thời gian bắt đầu chính xác của sự kiện sẽ được công bố trước ngày diễn ra sự kiện

📍 Địa Điểm:
MadMask Studio, 8 Cửa Nam, Hoàn Kiếm, Hà Nội , Việt Nam

✍🏼 Cách đăng ký tham gia sự kiện :
Hãy truy cập vào shop.frkntn.com để đăng ký tham gia sự kiện . Số lượng chỗ ngồi có hạn , vì vậy đừng bỏ lỡ cơ hội này để được nâng cao kỹ năng sản xuất âm nhạc điện tử của bạn cùng với những bậc thầy âm nhạc đến từ FRKNTN!

🎟️ Ticket Information:
Vé tham dự đã bao gồm vé tham dự FRKNTN Masterclass + demo session và bản copy kỹ thuật số của FRKNTN Sample Packs (1 ticket for 1 person. Vé sẽ được đối chiếu qua họ , tên hoặc nickname trên vé của mỗi người)

📄 Terms And Conditions:
https://shop.frkntn.com/pages/masterclass-tac

English 🇺🇸 / 🇬🇧

🚨 Be a part of the very first FRKNTN Music Producer Masterclass!

The dynamic duo from Poland 🇵🇱 DNF & I.GOT.U, owners of the cutting-edge music label FRKNTN, will share their insights and techniques in the realm of EDM production.

🏠 Hosted at the state-of-the-art MadMask Studios in the heart of Hanoi, Vietnam, this exclusive event promises to be a game-changer for aspiring music producers.
____________________________

📆 Date:
03 December 2023 (Sunday)

⏰ Time:
The exact start time of the event will be determined closer to the date.

📍 Location:
MadMask Studios, 8 Cua Nam, Hoan Kiem Hanoi, Vietnam

✍🏼 How to Register:
Visit shop.frkntn.com to secure your spot. Limited seats available, so don't miss this opportunity to elevate your EDM production skills with the maestros of FRKNTN!

🎟️ Ticket Information:
Standard Entry Ticket includes entry to the masterclass production + demo session, and a digital copy of the FRKNTN Sample Packs (One Ticket per person - Entry with proof of purchase conforming to name and surname)

📄 Terms And Conditions:
https://shop.frkntn.com/pages/masterclass-tac
Sample Packs
Regular price

75,00 zl

Sale price

50,00 zl

Unit price

per

30-Day Best Price*: 50,00 zl

Regular price

From

50,00 zl

Regular price

75,00 zl

Sale price

From

50,00 zl

Unit price

per

30-Day Best Price*: 75,00 zl